Complete Reseller Guide: How to become a Hosting Reseller with your own brand
Today in the blog we are going to talk about How to become a Hosting reseller step by step with your own brand in a complete guide, in the easiest way possible and with your own brand.
The guide is extensive and detailed within a general configuration (we don't go into all the optional configurations or the installation and configuration of the WHMCS management system), as we want you to understand everything perfectly and have no doubts when you start selling Hosting.
What is a Reseller and how does it work?
Reseller plans are specific Hosting accounts for hosting resellers where you can manage all your clients' accounts in a single panel.
Unlike multi-site or multi-domain plans, each Hosting plan you sell from your Reseller account will have its own management cPanel for the customer to manage his Hosting resources.
It goes without saying that each reseller plan has its own hosting to manage the website from which to sell the hosting plans.
Master Reseller & Alpha Reseller Hosting
The Master reseller hosting and Alpha reseller hosting plans include an extra feature to get more value for money.
The difference with a Reseller plan is that with the Master plans you can also create reseller accounts apart from the Hosting ones. With the Alpha plans, the possibility of creating Master accounts is included. This means that if you sign up for a Master or Alpha plan, you will be able to sell Reseller accounts and create a network of resellers who, in turn, will sell their own Hosting plans.
Reseller Operation
Resellers contract AtresHost plans as a hosting provider and they in turn create their customized plans, with the resources they consider, applying their own rates to the plans, offering support without our intervention and under their own brand.
The management of your reseller account is done from WHM (Web Host Manager), a control panel to manage all the functions, such as creating hosting plans, suspending accounts and so on.
How to become a Reseller and sell Hosting
Logically, the first step is to hire a Reseller, Master Reseller o Alpha Reseller Hosting plan, depending on what you want to sell. Remember the structure of the plans we have mentioned and decide on the one you want.
Optionally you can contract a dedicated IP for your account from 6€ per month
Reseller Hosting Plans
We have 4 Reseller Hosting plans: Basic, Advanced, Unlimited & Deluxe
For more detailed information on the plans, go to the Reseller Hosting section.
Master Reseller Hosting Plans
We have 4 Master Reseller Hosting plans: Basic, Advanced, Unlimited & Deluxe
For more detailed information on the plans, go to the Master Reseller Hosting section.
Alpha Reseller Hosting Plans
We have 4 Alpha Reseller Hosting plans: Basic, Advanced, Unlimited & Deluxe
For more detailed information on the plans, go to the Alpha Reseller Hosting section.
Once you have your plan buyed, it's time to start working.
WHM Configuration
Before creating your business website, installing the administration manager and so on, the first thing you have to do is configure the plans you are going to sell, with the features you are going to include and the limitations you want for each one.
WHM can be accessed from the following addresses: https://atreshost.com:2087/ or https://atreshost.com/whm/ or https://youdomain.com/whm/.
The system will ask you for a username and password that you will have available in the welcome email you will receive when you contract your plan. Enter your access data and click on Login (Iniciar sesión).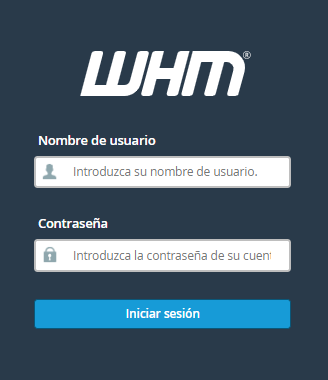 Create Hosting / Reseller packages & Functions
Once you are logged in, the first thing you need to do is create a new Function List. From the "Packages" module, click on FEATURE MANAGER.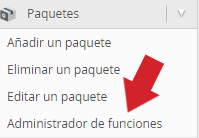 Then type a name for the new function list and click "Add new list".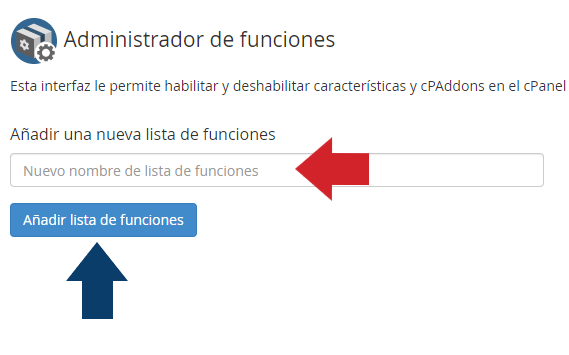 Finally, select the features you want to put in your customers' cPanel and save it. We suggest you check the box "Select all features".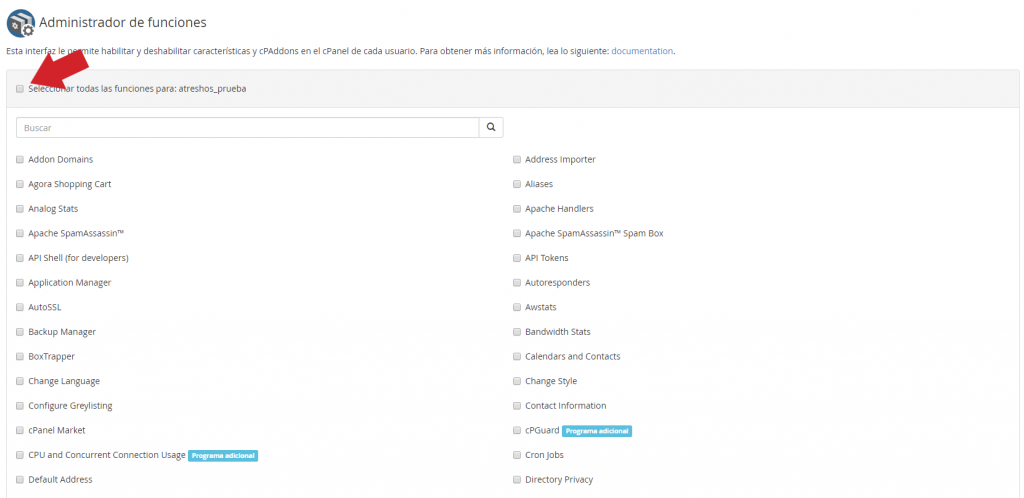 Now it's time to create the Hosting or Reseller packages that you will sell on your website. From the main menu, navigate to the "Packages" section and click on Add a package to start configuring the plan parameters.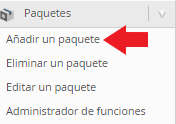 Next you will be shown the different configurable options of the plan you are going to create. We're going to set up a test hosting plan so you can see how it works.
The fields support numeric values from 0 to unlimited and expressed in binary format. If you don't know how to express the units in binary, we leave you here an automatic converter so you can use it: Converter GB to MB.
Now we're going to explain all the options when creating a hosting package one by one:
Package name: The name we're going to give to the plan we're creating.
Disk quota (MB): The number of MB (Megabytes) we want to assign to the plan. If we want to assign 100GB of space, we will enter the value in Megabytes, in this case it will be 102400.
Monthly broadband (MB): The total monthly traffic we want to allocate. In AtresHost all plans are unlimited in terms of transfer, so let's check the Unlimited box.
FTP accounts maximum: Number of FTP accounts that can be created We will configure 5 accounts maximum.
Max email accounts: The number of email accounts you want to allow to be created. We mark a maximum of 15 accounts.
Max Quota per Email Address (MB): Maximum space available for each email account. We introduce the value in Megabytes (MB). In this case, 1024 (1GB).
Max email lists: Maximum number of mailing lists. We set it to 10.
Max databases: Maximum number of MySQL and PostgreSQL databases to be created. We indicate 5.
Max subdomains: Maximum number of subdomains. We set it to 5.
Max Parked Domains: Maximum number of parked domains. Check the Unlimited box.
Max Addon Domains: Maximum number of additional domains in the same hosting plan. As it is a "Basic" plan, we mark 0 (no additional domains) and thus, we can reserve that feature for higher plans.
Maximum Hourly Email by Domain Relayed: Maximum number of emails that can be sent in one hour. We leave this value in principle in Unlimited, but you have to take into account this parameter and watch that no spam is made from any Hosting account. If you have to limit the function, you can define it in 500 mails per hour.
Maximum percentage of failed or deferred messages a domain may send per hour: We left it at Unlimited.
Options: We will only enable the CGI Access option.
cPanel Theme: There's only one issue, so we'll leave it as it is by default.
Feature List: You have to create a list of features in advance from FEATURE MANAGER > ADD NEW LIST, select the features you want to put in the cPanel of your customers and save it. Then, just select it from the drop down menu. DO NOT LEAVE THE DEFAULT LIST OR SELECT ANY OTHER LIST THAN THE ONE YOU CREATED.
Locale: Choose the language you prefer from 34 languages.
Finally, to create the package click on Add.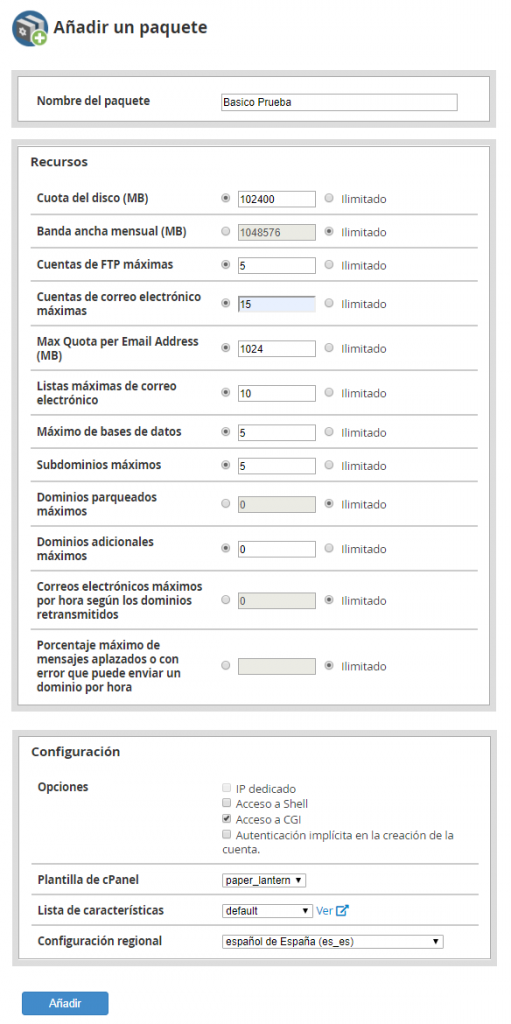 You have already created your first hosting plan. Now you have to do the same with the different hosting plans you want to sell, remembering the space limitations you have in your reseller plan when assigning space in your plans.
If you have signed up for an Unlimited or Deluxe plan, you don't have to worry about any limitations.
Assigning Reseller or Master Functions
Now let's set up a package as a Reseller or Master.
The first thing to do is to create the package (as you have just read back) and then assign the Reseller or Master function to it (depending on the plan you have contracted and the feature you want to give it). Once you have created the package and from the main menu, navigate to the Plugins (Additional programs / add-ons) section and click on Zamfoo Reseller.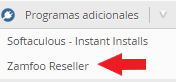 Then click on Account Management (top right) and choose the Modify Autogrant option.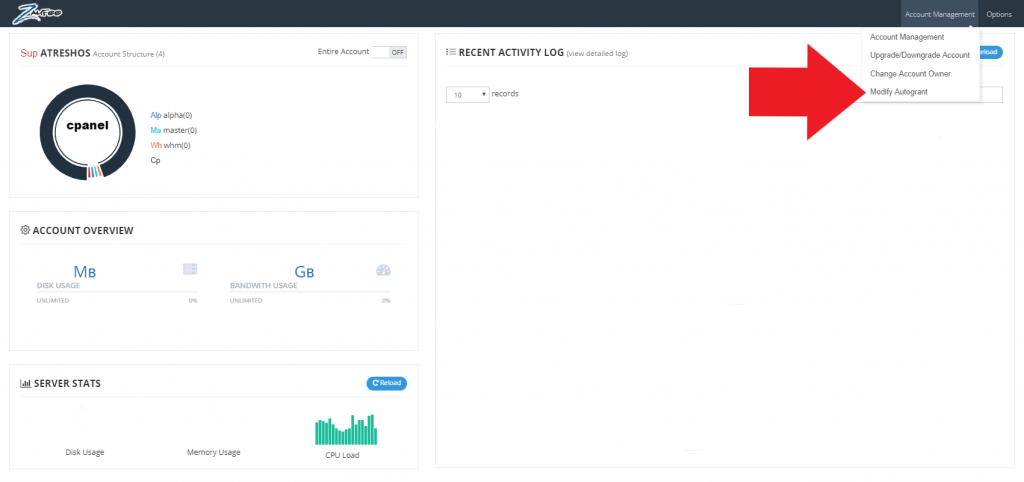 Finally, you have to choose the plan you want to assign the Reseller or Master feature to, click on Modify Autogrant and choose the desired feature (WHM Autogrant to make the plan a reseller and Master Autogrant to make it Master).

We are not going to go into detail about the rest of WHM's functions, remember that this is a general guide on how to become a Reseller. But broadly speaking, you can customize practically anything you want
Website and WHMCS
The next step is to create your website where you will detail your services, plans, prices, support and so on. From AtresHost we recommend you to use WordPress content management system (CMS).
WHMCS Administrative Manager
The last step is to install a multifunctional administrative manager such as WHMCS.
There are several alternatives to WHMCS, but we believe that today it is the best option to manage your business and connect cPanel and WHM, automating all payment, invoice and support processes. You can find more information about WHMCS and how to buy it by clicking HERE,
If you buy the WHMCS license with us for 9.99€ per month, you will save 6€ per month compared to buying it from their website.
To install and configure WHMCS, access the official documentation by clicking here. There are dozens of detailed step-by-step tutorials, as well as video tutorials and much more information to help you.
Connecting the Server to WHMCS
The first step in connecting the server and WHMCS is to create a API TOKEN in WHM. Access WHM and from the "Development" module, click on "Manage Api Tokens".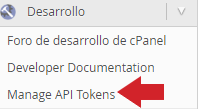 Then click on "+Generate Token".

Enter a name for the API and without touching anything else, scroll down to the bottom of the page and click "Save".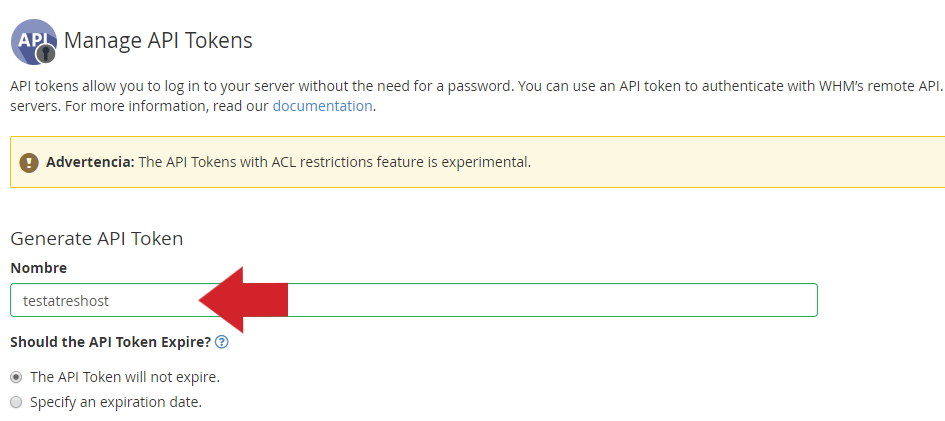 Finally, copy the generated token and click "Yes, I saved my token".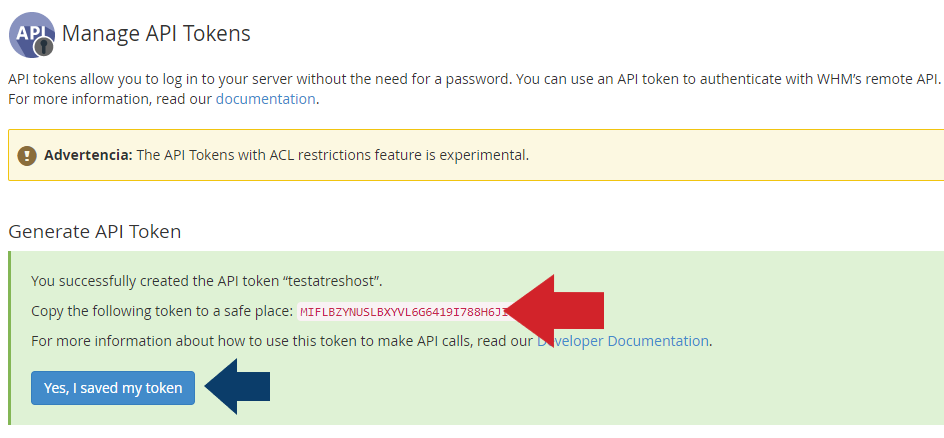 With the token already generated, we enter our WHMCS administration panel and from the menu, go to SETTINGS > PRODUCTS/SERVICES > SERVERS.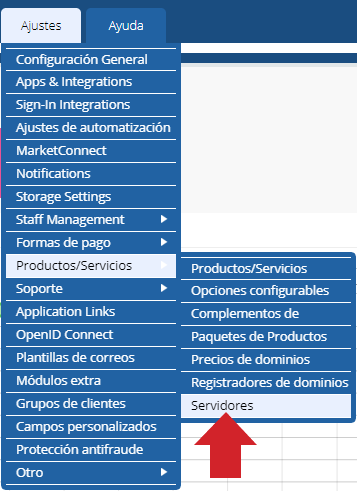 Once you're on the servers page, click "+ADD NEW SERVER".

Configure the data as follows and click "TEST CONNECTION".

MODULE: cPanel
HOSTNAME OR IP ADDRESS: your domain
USER: the user with whom you access WHM/CPANEL
PASSWORD: the password with which you access WHM/CPANEL
API TOKEN: the token you have generated in WHM (if you don't have one, access WHM and generate the api token from "MANAGE API TOKEN")
If the data entered are correct, you will be taken to the next page, indicating that the connection has been made successfully.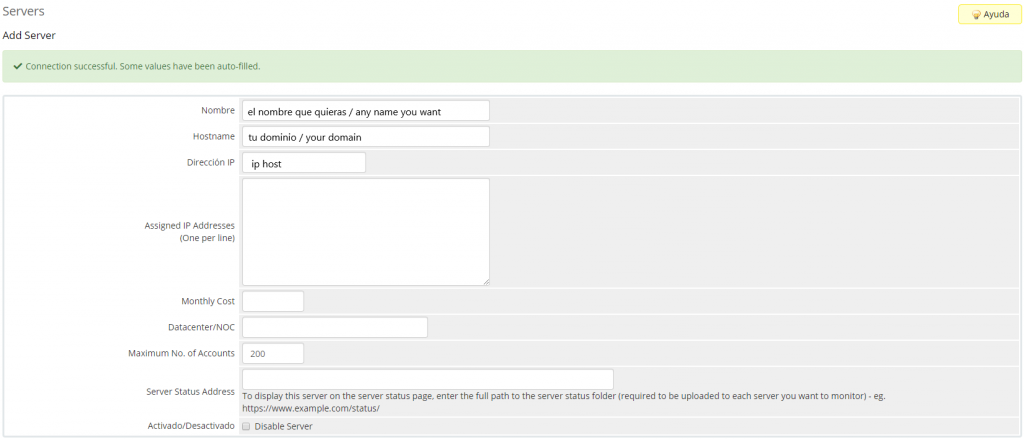 Finally, fill in the NAMESERVERS data and click on "SAVE CHANGES" to have the server connected to WHMCS.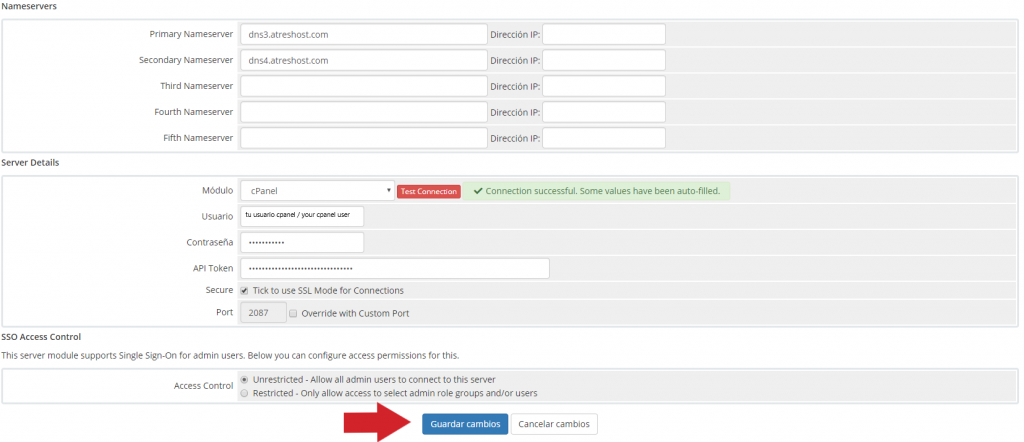 And here ends the general guide on how to become a reseller.
We hope you find it helpful and venture into creating your own business.