Today we are pleased to announce the official launch of the new Super Alpha Reseller Hosting service.
What is Super Alpha Reseller Hosting?
Super Alpha Reseller Hosting is the new service for resellers.
With Super Alpha Reseller Hosting you can sell Alpha Reseller Hosting, Master Reseller Hosting, Reseller Hosting and Hosting plans (cPanel accounts), maximizing profits by being able to sell different services.
The new service has the same characteristics as the rest of the Reseller products: we do not limit our customers' accounts in terms of space, web traffic, CPU, RAM, I/O usage, inodes and resources per cPanel at a very low cost, being AtresHost the only company that really offers unlimited cPanel accounts in reseller plans.
Super Alpha Reseller Hosting Plans
We leave you with the Super Alpha Reseller Hosting plans available at AtresHost with the space included in each one of them:
BASIC: 50gb web space
ADVANCED: 250gb web space
UNLIMITED: unlimited web space
DELUXE: unlimited web space
The DELUXE plan includes all the features of Unlimited Super Alpha Reseller Hosting plan plus a WHMCS license, dedicated IP, Premium Support, .com domain and Lite version of Radio Streaming Reseller.
All plans have WHM/cPanel/Zamfoo, free unlimited SSL Certificates for each domain and subdomain hosted at AtresHost with Lets Encrypt SSL. For the backups we use Jetbackup, which performs backups automatically, hosting the copies on external Amazon S3 servers.
For full information on plans, go to Super Alpha Reseller Hosting section.
To find out how to become a reseller, access our complete reseller guide: How to become a Hosting reseller with your own brand.
Servers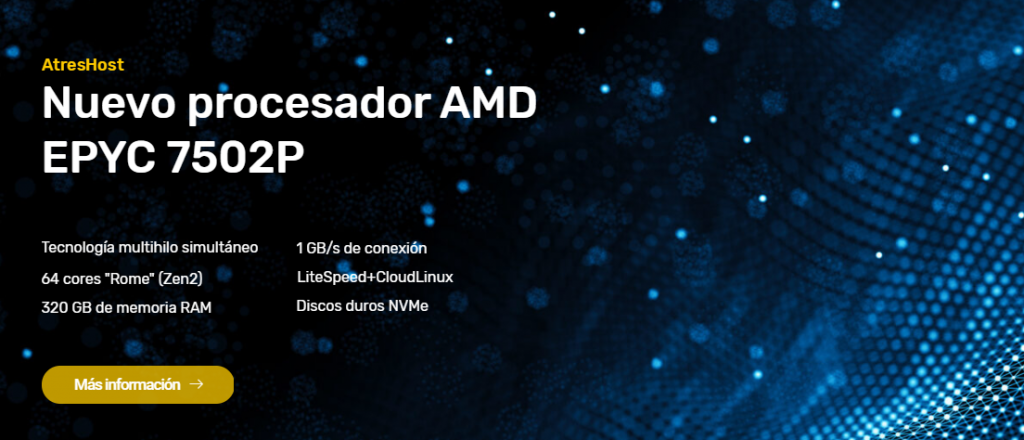 Our servers run on AMD EPYC 7502P processors, with 64 "Rome" (Zen2) cores, incorporating simultaneous multithreading technology, 320GB DDR4 ECC RAM, 100% NVMe disk drives, equipped with LiteSpeed Web Server + LiteSpeed Cache Plugin, CloudLinux and with a guaranteed port speed of 1 Gbit/s.
Celebrate our anniversary
To celebrate our anniversary, we launched the following recruitment campaign in Super Alpha Reseller Hosting plans:
SUPER ALPHA RESELLER
50% discount for first month in Basic, Advanced and Unlimited of Super Alpha Reseller plans | COUPON: 50reseller
30% discount for 6 months in Basic, Advanced and Unlimited of Super Alpha Reseller plans | COUPON: 30reseller
10% discount for first year in Basic, Advanced and Unlimited of Super Alpha Reseller plans | COUPON: 10reseller
Conditions: Coupons valid for new customers. Discount coupons available from July 27 to August 31, 2020.